Plantkeeper-Professional Interior Landscaping
Plantkeeper is a full service, professional interior  landscaping company that provides interior tropical plants for any home or office.    Plantkeeper specializes in the
design,  installation, and maintenance of all environments with living greenery. We have over 40 years of experience in designing and supplying the highest quality plants in the Dallas/Ft. Worth area and nationwide.  There are many competitors in the interior landscape industry but we are the original interior plantscape company here in Dallas and love bringing tropical foliage into people's lives since 1975.  We have worked in all types of environments from malls, banks and high rises to residential homes and condominiums. We are here to help you add some interior landscaping to your space, by determining which plant might be right for you, the style of planter to accent the plant and the finishing touches that make it look like a piece of furniture.
Not only do we provide the tropical plants and design experience, we have a wonderful plant support team that can maintain your tropical foliage and keep them healthy for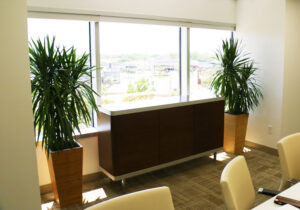 years to come.  With a proven track record of satisfaction and clients that have been with us since the beginning, we know how to exceed our customer's expectations! If your looking for a company that is large enough to serve you and small enough to know you, look no further. Please feel free to contact us for a free estimate consultation on interior plants or a competitive bid on existing service.