Tropical Plant Installation & Maintenance is a key component to any of today's high end interior design projects.  We believe strongly in the power of plants.  We know of their benefits and want to share them with you and your business.
Plantkeeper Inc. has served Dallas/Ft. Worth with top quality indoor tropical plants and five star customer service for the last 40 years. With over 300 satisfied clients, Plantkeeper focuses on keeping our customers happy with attention to detail, personal service,  and beautiful looking plants.
Used effectively, plants provide a focal point,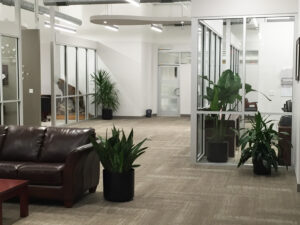 screen, direct traffic, define space, project a public image, create a feeling of comfort and well-being, all while cleaning the air of indoor pollutants.
All of our programs include a guaranteed maintenance contract to take care of the plants weekly. This service includes watering, feeding, grooming, and replacing if necessary. We strive to have a worry-free replacement policy that exchanges any plant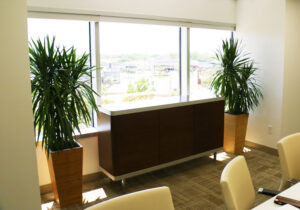 that becomes unsightly.
Selecting the right plant for the environment is essential for long-term success. From years of horticultural experience, we understand the varying requirements for lighting, and temperature for all of our tropical variaeties. Plantkeeper, Inc. can select plants with the shape, size, color, and texture to meet your design objectives. We guarantee to fulfill the functional and aesthetic requirements you have defined adding to any interior design style or feel.
| | |
| --- | --- |
| | Initial Consultation We'll schedule an interview with you at your location to discuss the particular requirements of your environment. We'll conduct a site analysis to identify any challenges that may exist – such as lighting, heating, cooling, traffic flow, and interior design. |
| | Project Management We welcome early involvement in any design project: we are happy to act as a consultant or designer to bring our extensive plantscaping experience to the table.  We also bring practical and horticultural knowledge  to any property manager, architect, or design consultant. |
| | Insurance Certification Insurance Certification, bonding and operating within customer premises and in public areas gives us the responsibility to ensure that we have a sound Health and Safety Policy. This is regularly reviewed to ensure complete satisfaction and reinforces our commitment to quality and safety. |
Corporate Offices
Live indoor plants filter out harmful toxins given off by furnishings and equipment as well as create a pleasant place to work or visit.
Your plant-scape will have a positive impact on your clients and visitors. Research proves plants increase productivity, reduce sick leave and give you happier employees. Indoor plants add a noticeable energy to the workplace. We take care to use the most appropriate plants with reference to form, shape, size, health benefits and interior design principals.
Residential
Residential plant design, sales, and service is a specialty not all companies can deliver. In fact, we are one of the only plantscape companies in the area that specializes in high end residential plant services.  From early involvement in any design project, we are happy to act as your designer or to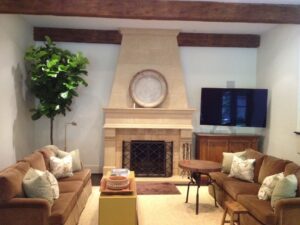 work with your architect or interior designer to bring you the quality foliage and custom planters that set your home apart. Color Rotations, containerized plantings, and holiday decorating are just a few of the programs we provide our residential customers.  Interior Tropical Plants are right at home in almost any space you inhabit.